Palliative Care Guidelines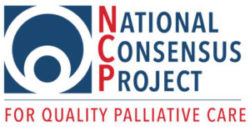 Clinical Practice Guidelines for Quality Palliative Care, 4th Edition
Clinical Practice Guidelines for Quality Palliative Care, 4th edition, (NCP Guidelines) creates a blueprint for excellence by establishing a comprehensive foundation for gold-standard palliative care for all people living with serious illness, regardless of their diagnosis, prognosis, age or setting. The NCP Guidelines expand on the eight domains of palliative care in the 3rd edition and include clinical and organizational strategies, screening and assessment elements, practice examples, tools and resources. The NCP Guidelines were developed by 17 national organizations who provided representatives to serve on the steering committee and writing workgroup. Over 90 national organizations have endorsed/supported the 4th edition. 
Bulk Orders:
Discounts available for bulk orders!
5-9 copies: 5% discount; 10+ copies: 10% discount; plus reduced shipping charges for all bulk orders.
To place bulk orders or for technical assistance, email orders@nationalcoalitionhpc.org.
Systematic Review
The RAND Evidence-based Practice Center systematically reviewed the literature to formally grade the evidence for the NCP Guidelines, 4th edition. The complete findings are available online in the Journal of Pain and Symptom Management 
(doi: 10.1016/j.jpainsymman.2018.09.008)
Thank you to our funders!  
Clinical Practice Guidelines for Quality Palliative Care, 4th edition, was made possible by funding from the Gordon and Betty Moore Foundation with additional support for the systematic review provided by the:
Discounts available for bulk order purchases!