Payment
Help prepare the field for a risk-bearing reimbursement environment and present a unified message
The Coalition works with our Member organizations to jointly analyze Medicare policies, including alternative payment models, and works to reach consensus on  impact and implications for the field, and most importantly for patients and families.
Community-Based Palliative Care Advocacy
Requested Congress and HHS to Improve Access to Community-Based Palliative Care
The Coalition and National Hospice and Palliative Care Organization spearheaded a dual track advocacy effort to build administration support at the Centers for Medicare and Medicaid Innovation and in Congress to establish a community-based palliative care model.
Read the letter and comparison chart submitted to Capitol Hill leaders and HHS officials September 2020 that was signed by 13 Coalition members, and 27 national organizations and 34 state organizations. Additional related advocacy efforts included:
• Submitted consensus recommendations to improve Alzheimer's care in the nation in response to the Senate Finance Subcommittee on Health Care's request for information from stakeholders for suggested policy solutions.
• Provided input into the HOSPICE Act, "Helping Our Senior Population in Comfort Environments Act" that passed the House Ways and Means Committee on February 2020. Elements of this legislation passed into law on December 22, 2020 and took into consideration Coalition input and feedback.
• Endorsed the Patient Quality of Life (PQLC) palliative care payment principles to help drive policy recommendations that will be used to guide this broad-based Coalition's work. Learn more at www.nationalcoalitionhpc.org/advocacy.
News You Can Use
Two recent articles highlight policy trends influenced by many years of advocacy from the Coalition and our members.
Primary Care First (PCF) Model Options
Primary Care First Model Options is a set of new voluntary five-year payment models that reward value and quality by offering a new payment structure to support delivery of advanced primary care. PCF is based on the existing CPC+ model design: prioritizing the doctor-patient relationship; enhancing care for patients with complex chronic needs and high need, seriously ill patients, reducing administrative burden, and focusing financial rewards on improved health outcomes.
Seriously Ill Population (SIP) Option Participation
 Another option within PCF is SIP.  CMS will attribute Seriously Ill Population (SIP) patients lacking a primary care practitioner to practices that specifically opt to participate in this payment model option. Practices may limit their participation in Primary Care First to exclusively caring for SIP patients.
 Hospices and Palliative Care programs and practices were eligible to apply for the SIP Model (deadline was mid-January).
 More information about CMMI's alternative payment models is available here.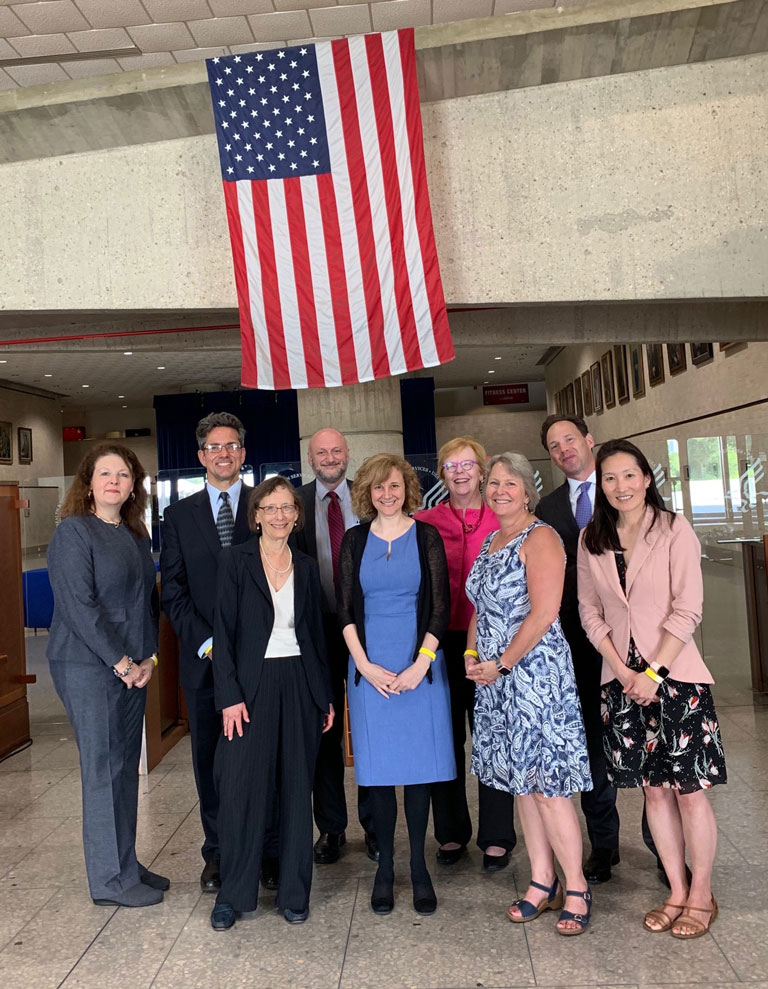 (Photo: Coalition Leaders Meet with CMMI to Discuss Implications of New Serious Illness Payment Model, (L-R) Amy Melnick, NCHPC Executive Director; Phil Rogers, AAHPM; Diane Meier, CAPC; Joe Rotella, AAHPM, Allison Silvers, CAPC; Judi Lund Person, Lori Bishop, NHPCO; Edo Banach, NHPCO; Hannah Moore, NHPCO)
Coalition Resources and Webinars
CMS Resources and Webinars
Other Payment Issues/Updates
Coalition Submits Recommendations to Senate Finance Subcommittee on Health Care on Specific Actions to Address Alzheimer's Disease
Coalition Recommends to Congress Specific Hospice Integrity Initiatives: Coalition Hospice Integrity Initiatives
CMS Announces 2020 participation in the Value-Based Insurance Design (V-BID) Model, including details regarding the hospice benefit "carve-in": On December 20, CMS released details on the hospice benefit component for CY 2021 and published the Request for Applications. The demonstration tests the inclusion of hospice in Medicare Advantage for the first time.
Coalition Comments on the Physician Fee Schedule (PFS) Proposed Rule, CMS Listens:The Coalition recently provided a comment letter to the proposed changes in the CY 2020 Medicare Physician Fee Schedule (PFS), Proposed Rule. The Coalition supported proposals that would allow physician assistants (PA's) and all advanced practice providers (APP's, including nurse practitioners) to practice to the full extent of their license consistent with state law. CMS officially released the CY2020 Medicare PFS and changes include reduced documentation burden for evaluation and management services, increased payment opportunities for chronic care management services, and increased recognition of PA's and APP's in hospice.
Medicare Patient Access to Hospice Act: In early 2018, Congress passed the Medicare Patient Access to Hospice Act which allowed the Centers for Medicare & Medicaid Services (CMS) to change the regulations to recognize physician assistants (PAs) as designated "Hospice Attendings" effective January 1, 2019. While the definition of "hospice attending" provider was changed to include PAs, the Centers for Medicare Services (CMS) continues to limit care for PAs with other statutes and discretionary rules.
Hospice Final Rule – Coalition Comments: In a final rule for Fiscal Year 2020, CMS finalizes policies and payments for hospice, including rebasing payment rates for the four levels of hospice care. Among other provisions the rule includes a new requirement that hospices provide an addendum to election statements that would detail care, treatment and services the patient would receive that are covered outside the Medicare Hospice Benefit. The rule becomes effective Oct. 1.